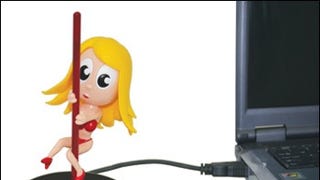 Not only is this second generation USB Pole Dancer actually
worse looking than the first
, you actually have to DO SOMETHING to make it perform. The anime-like eyes really makes this version much, much more creepy than the first, as if child labor laws don't apply to the plastic USB world. Nevertheless, $22 makes…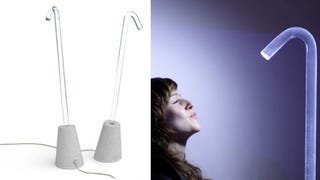 Designed to use a minimum of materials and components, the "Pole" lamp just looks very, very cool indeed. Designer Paul Cocksedge was trying to create the illusion of bending light, so made the acrylic and concrete design "to send rays of light on a journey of internal reflection." Simple: the bulb is in the base and…
Screw Xmas trees. Festivus Poles are where it's at. And now you can get your own 2' 8" or 6' model to celebrate Festivus the way it was meant to be celebrated. With the people you hate. Reader Keebler shares his experience:
Remember that terrible
USB pole dancer
that we found after it was pulled from the store that was selling it, only for it to be put ? Those of you waiting for yours to get shipped, here's a taste of what you're in for. The ladies over at Shiny Shiny got their hands on one and created this video of it in action,…
Remember when we showed you the USB Pole Dancer that was notable because it got ass-canned from Marks & Spencer? It's actually available now online from Boys Stuff over in the UK. Thanks to the notoriety, Boys Stuff can charge £29.95 ($53) instead of the original £19.50.
Could this be the ultimate USB-powered gadget that tops every other USB device we've ever seen? Yes, if it were still on sale. Apparently schoolmarms are alive and well in the UK, as local store Marks & Spencer had to can the product just a week after it went on sale.
The Slik S Pole Digital (a name that is surely butchered by translation) is a helpful way for SLR photographers to get that extra bit of height for a shot. Its 30cm to 60cm can help a camera reach those tough spots, like over private fences and up to bedroom windows.