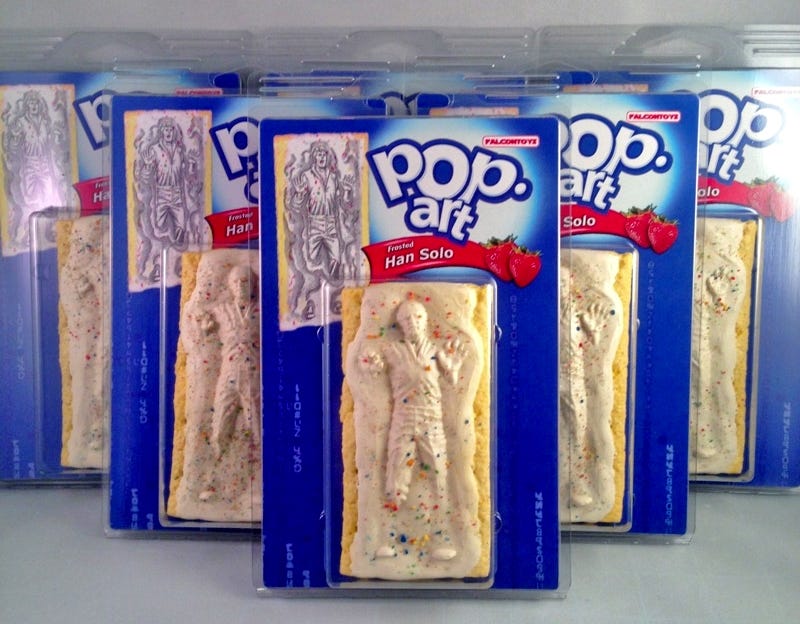 They look good enough to eat, but this Pop-Art figure that looks exactly like what would have happened if Darth Vader had frozen Han Solo in a toaster pastry, instead of carbonite, is actually made of resin and hand-painted to only appear delicious. You can't eat it.
Everybody acknowledges the huge influence that writer J.G. Ballard continues to have on science fiction and our visions of the future — but we don't pay enough attention to one of Ballard's own main influences. Over in The Arts Desk, there's a great look at the visual artists who influenced Ballard.
We've covered the work of Grégoire Guillemin before, but this time he's taking on a completely different style of art in order to expose the secrets characters have been hiding from us.
Emoticons are inherently silly. They're text based facial expressions that don't always make sense. Anytime a $ or # gets inserted to an emoticon, no one has any idea what the hell is going on anymore. But! When emoticons capture a feeling perfectly, they're beyond brilliant. A string of words can't even express life…
I'm not sure what compulsion drives some artists to reimagine pop culture stalwarts as horrifying babies, but Alexandre Nicolas' prenatal versions of the comic book pantheon are on display at the HEY! exhibit in Paris. You can see more photos at his website.
Finnish artist Mari Kasurinen combines her love of plastic and pop culture into some truly amazing equine art. Her collection includes everything from this cute My Little Cthulhu to My Little Predator Pony. Check out highlights from her gallery!
Raydeen, giant robot protector of the Lost Continent of Mu, can look out into your bedroom and offer protection from the Demon Empire, thanks to this new art print, for sale by Dano36 on Etsy. And T-shirts are coming!
If you've got a spare couple of grand loitering in your bank account, and you're a S*** W*** fan, then this graffiti'ed AT-AT walker might be so far up your galaxy it's parked in your constellation. Customised by EASE and JK5 for Suckadelic, the Hasbro toy is tagged in gin-u-wine Aurebesh language, and is expected to…
If you have ever wanted to have the inspiration and desire for pop art without the need for LSD or acid (see: Andy Warhol) this cheap-ass camera can do it. The Pop Art Color Cam can reproduce four images, each with a different tint of color. No digital here, folks. This is good old fashion 35mm. At least you won't…