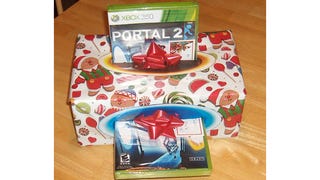 The game might be a few months old now, but Portal 2 will still make for an amazing Christmas gift. And here's hands-down the most clever way to wrap it. Just keep the giftee off the internet until Christmas morning.
It's not going to guarantee you an A+ like showing up with a working portal gun would. But you can still wow your teachers by building your own version of Portal 2's potato-powered AI, even though the kit's a fraud.
Valve's Portal 2, the much anticipated and loved video game, obviously took a huge undertaking to create. In the Final Hours of Portal 2, journalist Geoff Keighley observed Valve for three years to tell you how it all happened. It may be an app, but it's long form journalism brilliantly told on the iPad
What is it?