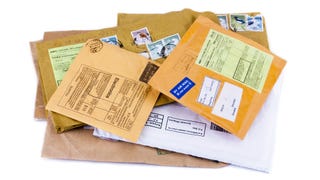 Email has eaten most of snail mail's lunch, but computers are cutting into what's left by parsing the addresses of your packages and letters. When they can't figure out your scrawl though, it's squinting and guessing to the rescue, and the New York Times tracked down the few people left with that job.
It can't just be the United States Postal Service that's having a hard time staying afloat. Email and social networking is available all around the world, but maybe the USPS should take a hint from the clever Belgians who've created a collection of stamps that celebrate—and actually smell and taste like—chocolate.
The United States Postal Service announced plans today to end Saturday mail delivery later this year, as part of its spirit quest to become something other than a $16 billion sinkhole. Good! But it's not enough. In an age where we've already started to leave email behind, five days of bulk catalog and sweepstakes…
The USPS has a new plan to stop Saturday mail delivery. All accounts indicate email will still go through just fine.
The Post Office is dying, kids, hemorrhaging money while you fritter away your time with those emails. Don't you know that paper mail is safer? Friendlier? And can't be hacked... by terrorists?! That's what the USPS's new ad campaign wants you to think.
The UK's Royal Mail may've been kicking around in some shape or form since 1516, but they've become the first postal service to create an "intelligent stamp," readable like a QR code by an Android or iPhone app.
I thought Google Map Buddy's ability to generate printable, hi-res versions of Google Maps was pretty neat but figured I'd never find a reason to use it. These Google Maps envelops, however, are definitely worth the ink and the effort.
I can't stand the U.S. Postal Service with their obsolete stamps and long lines, but they have actually come up with a useful service called "Mail Back" that allows you to ditch your old gadgets in the mail for free. Currently, postage-paid envelopes can be picked up in around 1500 post offices in 10 cites that…