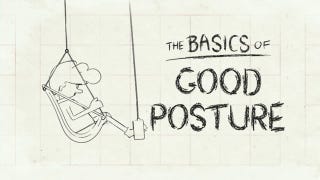 Are standing desks last year's advice? Whatever. Unless you're lucky enough to be on your feet all day for work, you probably sit too much. We all do. When we go home, we sit on the couch. When we have dinner, we sit on a chair. When we watch a movie, we sit in the theater. When we go out, we sit on a stool. Our life…
Deep down we all know we're doing terrible things to our spines by slouching down in our office chairs. But if this posture-perfecting chair is the solution to avoiding a sore back at the end of the day, the cure might actually be worse than the disease.
After designing footwear for several years, Martin Keen decided that he could apply the same knowledge he used to create comfortable shoes to furniture, resulting in an unorthodox workstation called the Locus that has users sitting and standing at the same time.
Looks like the U.S. will get its own chance to experience the joys of posture correctors/torture devices-
the iPosture
, which consists of an one-inch button that attaches to your clothes and vibrates when you slouch, is now available States-side for $90. Using it for four hours a day for the first two to four weeks…
It's probably too late to remedy our self-induced scoliosis, but the iPosture looks promising all the same. It's a 1-inch button that can attach to a variety of garments (like a bra strap or even a necklace) and vibrates when your posture succumbs to the heavy weight of gravity/your underwhelming life. Then you pull…
The Ergoskin is one of those far out concepts that will probably never see the light of day, but the fact that poor posture is a common problem (especially amongst us computer nerds) makes this unique solution intriguing. The design utilizes sensors woven directly into fabric at special points along the body—sensors…
When I was a kid my parents constantly told me to sit up straight and stop slouching. This generation of parents is lucky, they have a gadget that can automatically force children to sit uncomfortably. The slouch alarm will make an annoying noise if you start to deviate from the vertical, making you hold yourself like…
The Visomate Vision and Posture corrector does just that. This USB device sits atop your display and will monitor your posture and vision. It will flash an LED if you are sitting incorrectly and also does the same when you are too close to the monitor. It retails for $26 and I may have to invest in it. I spend the…
We've seen some stupid USB devices before, but this one sets a new level of uselessness. Hire your own personal nag-bot with Homi, a USB vision and posture reminder from USB Geek that will nag you just like your grandmother used to do. It uses an ultrasonic sensor to determine how far away you are from the monitor,…