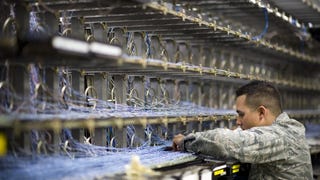 Officials at Creech Air Force Base in Nevada knew for two weeks about a virus infecting the drone "cockpits" there. But they kept the information about the infection to themselves - leaving the unit that's supposed to serve as the Air Force's cybersecurity specialists in the dark. The network defenders at the 24th Air…
Wired's Danger Room has learned that a computer virus has infected the United States' Predator and Reaper drones. The virus is a keylogger that keeps track of every pilots' keystroke as they perform missions over Afghanistan and other locations.
Shocker! In China's rush to be a 21st century military power, it might be possible some engineering's been a little... rushed. That seems to be the case for this Chinese "Pterodactyl" UAV—pretty much just a bootleg Predator. Kaboom.