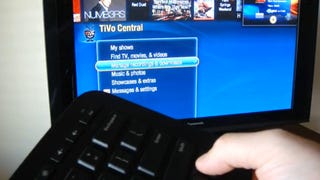 We had plenty of complaints about the QWERTY remote for the TiVo Premiere, but it turns out that any ol' USB and "most standard IR or RF HID-compliant wireless keyboards" will work with the device. Dave Zatz proves it:
Content producers of
pretty much any ilk
were excited to get news of the CS4 product line, but probably missed this key feature buried deep in the release notes: multitouch trackpad support. MacBook Air and late model MacBook Pro users can now pinch, spread, and twist in Photoshop just like they already can in…
Today is one of those days that designers celebrate and dread: Adobe unveils its latest Creative Suite—Number 4—with new pro versions of Photoshop, Premiere, InDesign, Illustrator, Flash, Dreamweaver, After Effects and more. Heavy users wait with bated breath to see if their desired tweaks have been added, knowing…
Tonight in Denver, Panasonic revealed its newest plasma technology, the 65" custom-install-only VX100 monitor, whose specs meet or beat Pioneer's hallowed Kuro. That means 60,000:1 contrast ratio with 7,160 shades of gradation for visible detail in the darker shadows. At 65 inches, you will pay $10,000 a panel, but…
The good news: the promise that Photoshop Elements would come back to Mac (after skipping version 5) has been kept—just in time for Macworld 2008, a $90 version of the Intel-native PSE is up for pre-order. I use Adobe Photoshop CS3 these days, but couldn't be happier about this. Remember that trick I told you about,…
As Adobe launches its latest Photoshop and Premiere Elements editions for Windows &mdash still $99 each or $149 as a combo &mdash there was plenty of talk why it chose Blu-ray over HD DVD, and about the return of a low-end product for the Mac OS aimed to challenge iLife at a moment of vulnerability.
Iampetro also…
Home cinema means high-def projector, surround-sound speakers, a booming subwoofer, and putting some custom installer's kid through college. Epson knows projector setup is a pain, so it has developed the Premiere Ensemble a system that's supposed to get you from in-the-box to in-the-couch in four hours. It's not…