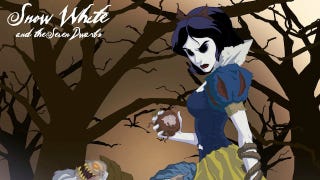 Disney's so-called princess movies are reworkings of myths, fairy tales, history, literature, and legend, but the series Seven for a Secret, written by an anonymous writer on the fanfic community Archive of Our Own (as part of Yuletide 2012) starts with the Disney versions of these stories and then twists them back…
If you're stuck with a small kitchen, you can usually save space with multi-purpose appliances that embody the jack of all trades, master of none spirit. Or, you can wait until October when Princess' brilliant Compact4All stackable kitchen appliances finally hit the market.
In addition to the theme park Meridas and Mulans who roam Disneyland and Disney World, various companies hire out princesses for birthday parties and other children's events. So do those paid princesses get treated like royalty? Or does donning the dress and tiara make you feel more ready to play Ursula than Ariel?
Disney animator Heidi Jo Gilbert created a Wicked storyboard video, set to the tracks from Wicked, the musical, hoping to convince her bosses to make Elphaba the next Disney princess. Our reaction: Holy Hell, this is amazing. UPDATE: Youtube pulled the clip but if you go to her site you can watch the original (not…
Showing again that Lego dorks can be loved to the point of marriage, reader Clint Cox has sent his cool Lego wedding cake, in which a heroic Lego minifig assaults the castle to rescue the princess from the eeeveel dragon:
As much as I love the hand-drawn beauty that is classic Disney story-telling, it's hard not to let certain Princess And The Frog plot points fog up the animation. But you be the judge: here are the first few minutes.
This week Nintendo sealed up the Twilight Princess hack which had previously allowed homebrew enthusiasts to work their brewy magic. Well, the patch has been circumvented after only a few days, and the fix should be available for download soon. [Wii Fanboy]