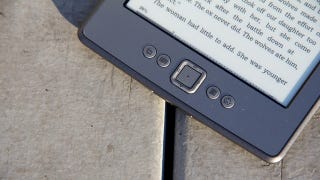 Almost 5,000 eBooks have been pulled from the the Kindle Store because of a change made to Independent Publishers Group's contract with the online seller. The move is a result of Amazon's demand for upfront payment from publishers, required to host their books on the store. [Paid Content]
Time is getting ready to push all 21 of their magazines onto every tablet they can get to. That will include the iPad, Android tablets, the Touchpad, and Nook Color. The Kindle, strangely, and Playbook, less strangely, aren't invited.
When Apple announced their digital subscription rules and locked down the iPad, publishers weren't exactly rushing to bring their subscriptions over. And then all of a sudden Conde Nast, Hearst, and Time Inc brought their magazines to the iPad. What changed?
According to Reuters, a company called Yudu has launched a service that gives content creators a way around the 30% cut Apple has been demanding for selling subscriptions through iOS. The service lets users download issues to their iPad or iPhone even when the purchase is made direction from the publisher.
Apple's new subscription plans are kinda crappy for publishers, but apparently some of them are happy the terms of the deal aren't worse. Some were afraid that Apple wouldn't allow any subscriptions that didn't go through Apple, and many delayed updates to their apps, waiting for the Apple news to drop. And there's…
Several publishers now set their own price for Kindle books, not Amazon. Which often means pricier than what Amazon was charging. And now Amazon says they're adding sales tax on any book where the publisher sets the price.
Publishers HarperCollins and Simon & Schuster have signed a deal with Amazon to follow the agency pricing model for their books—the same deal publishers have with Apple for the iBookstore—allowing the two publishers to set their own books prices.
If publishing company Penguin's impressive iPad demos weren't enough to convince you, this extremely clever video (originally made for internal purposes) will show you that at least one part of the publishing industry has its head squarely on its shoulders.
The writing was on the wall as recently as 2 a.m. this morning, and an open letter from Macmillan CEO John Sargent has confirmed everything we suspected: Macmillan books were pulled from Amazon store as part of a strong-arm tactic in the coming eBook price war. [Publishers Marketplace via Boing Boing]
9to5Mac claims that they've talked to a few content publishers (magazines, newspapers), and those publishers are claiming inside knowledge about the device. Most importantly, that it'll be "[nowhere] near $1000, as has been reported elsewhere."