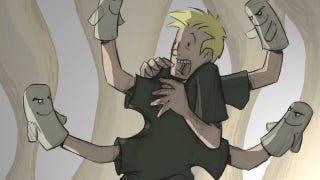 They may not have the creepy, vaguely human faces of ventriloquist dummies, but sock puppets are capable of plenty of mayhem in Patrick Smith's short film Puppet. Just don't let them get their soft, fuzzy bodies onto both of your hands.
The videos that Stan Winston Studio has been releasing about their special effects work on various movies are nothing short of astounding, and show off just how detailed their practical effects are. In this video, mechanical effects designer Rick Galinson takes us through the development of that great Dilophosaurus…
Nathan Britton used a combination of papier-mâché, paper clay, joint compound, acrylic paint and lights to bring the Mobile Organism Designed Only for Killing to puppety life. The lights in his rear create a great floating effect, but it's the rows of crooked, grinning teeth that make this murderous critter something…
During the last weekend this May, the Royal de Luxe marionette company trotted their disconcertingly large she-marionette — which is adorned with the hair of 70 horses — down the streets of Nantes, France. Now we know the dread the citizens of Metropolis feel whenever Toyman is on the loose.
We knew that we can call 1-888-FACETIME to try out a FaceTime chat with an Apple employee. What we didn't know is that they're also happy to talk to puppets and seem to work from a beach. [Thanks, Andrew!]
Walt Mosspuppet lays out surviving the Windows 7 apocalypse: Blowing up Best Buys will slow the spread, but killing the head Windows 7 is crucial. If you can't join the fight, seek shelter in an Apple Store. Ready? [YouTube]