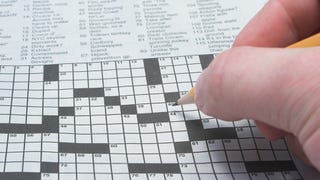 Look around at the people on a train, at a bus stop, or in an airport. Chances are, lots of them are playing some kind of game on their smartphones. But in any crowd, you'll likely see someone poring over a different pocket diversion — the crossword puzzle, still going strong today on its 100th birthday. It's been a…
When hackers break into the databases of the great and good—like Adobe—they're often left with an encrypted password and an unencrypted password hint. In other words, a giant, modern version of a crossword puzzle.
Crafted by casual game developer LoadComplete for the iPhone, iPod Touch, and iPad, Play Kalei is one of those incredibly simple games that you just can't seem to put down. A kaleidoscopic image is generated from a certain point in… [
Kotaku
]
Poor Sr. Mistu, who happens to be blind, has run out of olives for his pizza! In this straightforward but beautiful, hand-drawn and -animated puzzle game, you have to help him collect his beloved olives while keeping him out of harm's way.
What is it?
Sr. Mistu, $1, iPhone. There's not much to it: you use your…
The Google Nexus Twitter account will post a puzzle in just a few minutes, at 12EST. If you're the first to person to figure out and Tweet the answer back at them, they'll give you a free Nexus S. And at their event yesterday there was some talk of giving away Chrome netbooks to puzzle winners, too, so if you keep…
This is not, quite, a Japanese puzzle box: But it is a transforming storage unit that has so many sliding, slotting, complex inner drawers, pockets and shelves that it comes close to being a puzzle. Designed by Martin Sammer, Transformer Shelf is just a solid shelving unit when "closed," but sliding it open reveals…
It may not be quite as sophisticated or cerebral as Starfleet's bio-neural computing gel packs, but scientists have made a start towards this sort of tech by making bacteria solve a math problem. The team from Davidson College and Missouri Western State University added genes to the harmless Escherichia coli, normally…
At the moment you wake up, how smart are you? If you're like me, your answer is "not very." Which is why I hate some jerk for teasing me with this IQ-test alarm clock. We've seen puzzle alarm clocks before, but none that try your cognitive skills in this manner when all you wanted to do was sleep in for another two…
Lite-on's concept for a USB puzzle game involves e-paper, puzzle pieces and software that feeds an image directly onto the puzzle board. Kids rearrange blocks in order to construct the puzzle (which is made out of the image you chose from your computer). However, it looks like the puzzle pieces themselves never…
If you
ve snoozed through one-too-many alarms and then way overslept, Bim Bam Banana
s Puzzle Alarm Clock will give you a quick intelligence test that is bound to wake you up before it will stop its incessant honking. As soon as you can assemble the four puzzle pieces that are popped up into the air at your…