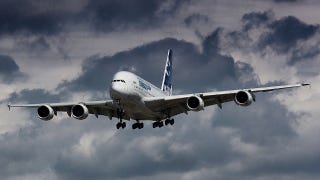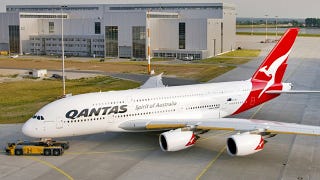 In a surprising move, Australia's Qantas Airways has officially grounded its entire fleet today, and stopped all domestic and international flights as part of an ongoing and messy dispute with the airline's three unions.
According to the Sydney Morning Herald, the 284 passengers on board Quantas Flight 12-a Boeing 747-400 flying from Los Angeles to Sydney-couldn't believe their eyes when they looked through their windows to see another Boeing from Air New Zealand flying just a few thousand feet from their aircraft. The explanation, as…
Early last week a Qantas Airlines Airbus A330 surprised (and injured) its passengers with an inexplicable 300ft climb, followed by an even larger drop.
Initial reports
seemed to place blame on interference from personal electronics — something that Qantas had claimed before. After the news made the rounds the…
The good news is, all you guys who have been dreading the use of internet calling on airplanes may be in luck, because airlines and airborne service providers alike are considering a ban on Skype. The bad news is, they're also considering a ban on that age-old lonely traveler's companion, porn, says the AP. Here's a…
Just when most other airlines and airplane manufacturers are removing in-flight internet access, Qantas goes the exact opposite direction (into our hearts) and adds internet access. The A380 and 747-400 planes that will make up their web-enabled fleet will have both Wi-Fi and a charging slot to plug your laptop into.…
If you've got a Dell laptop and you're going to be flying Qantas sometime soon, be aware of their new rules regarding your precious lappy. The airline still allows you to carry on your Dell in your standard carry-on, but if you want to use it, there's only two options. One is to remove your battery and move up to…