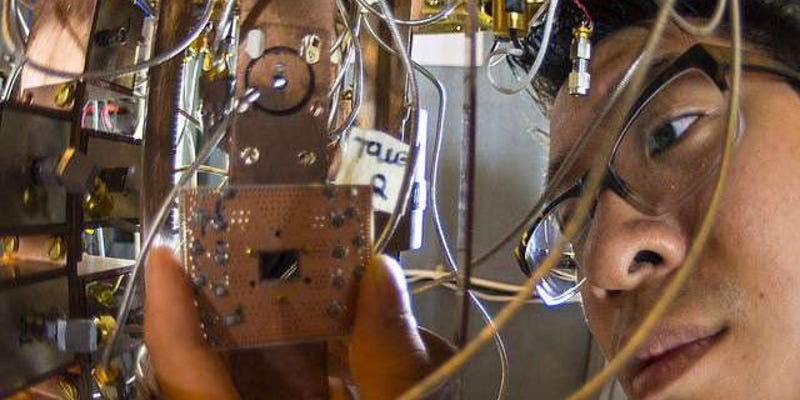 Like graphene, quantum computing is an exciting but endlessly elusive technological promise. One of the reasons—among many—that quantum computers aren't exactly a reality yet is that we haven't been able to effectively spot errors in quantum computations. Not until now, anyway.
What's better than a quantum computer? A quantum computer in a diamond, duh. And if you're asking why we need a quantum computer inside a diamond, well, may god have mercy on your joyless soul.
It's completely counterintuitive, but scientists at the Niels Bohr Institute have succeeded in cooling a semiconductor membrane to −452.2°F, almost seven degrees above absolute zero, using a powerful laser we usually think of as only being able to burn.
Ah, quantum computing. When will all your magical, paradigm-shifting awesomeness arrive and save us all from the ubiquitous 1's and 0's that define our computing day? What's this? A "Mainz interface?" What's that?
The quantum computer that many—us included—doubted would ever materialize showed up yesterday. However, I think it's fair to say that we're a little disappointed with what actually materialized. Sure, the hack thing to do is to praise its ability to solve Sudoku puzzles, but to me there's quite a difference between…
You know what today is? Well, allegedly, it's quantum computer unveiling day! ABC has a story reminding us that today is the day that that Canadian company is supposed to unveil the world's first quantum computer and peppers it with all sorts of "how will this change your life?" scenarios.