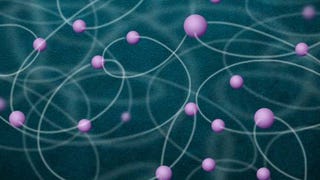 Quantum entanglement is an odd phenomenon that can connect two or more particles over even vast distances. Scientists have now managed to entangle not two, not 100 (the previous record), but 3,000 atoms with a single photon, opening the door to atomic clocks more accurate than ever.
Storing data in a state of quantum entanglement could hold enormous promise for securing our online information, but right now we can only maintain these states for a short time before the entanglement fails. An Australian research team has found a way to store data for hours, not milliseconds: Say hello to the…
Rudy Rucker's latest novel, The Big Aha, is pure transreal Ruckeriana featuring extreme biological and quantum technologies, steamy techno-sex, nasty aliens from higher dimensions — and all soaked in the unique atmosphere of the magical 1960s.
New research on wormholes suggests that these theoretical shortcuts that connect distant points in the universe might be linked with the spooky phenomenon of quantum entanglement. As Charles Q. Choi writes in LiveScience, this would allow particles to be connected regardless of how far apart they are — a finding that…
Einstein called it "spooky action at a distance:" one particle can instantaneously tell what another is doing without being anywhere near it. It's called quantum entanglement. And now NIST physicists have brought this effect to the real world.
Within a few years, we'll be able to take clear pictures of objects through clouds, smoke, or fog. We'll do it using quantum entanglement cameras. How do you translate theoretical physics into photography? Imagine you are trying to photograph a boat behind a bank of fog. You'll use two light-sensitive devices: aim…