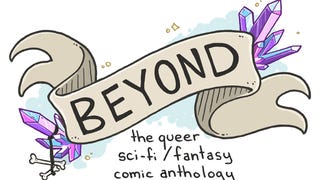 Looking for comics that feature a wide variety of sexualities and genders? Want all-ages science fiction and fantasy stories where the characters are "unquestionably queer" and their gender and sexuality isn't treated as an allegory? Then check out the crowdfunding campaign for the upcoming comics anthology Beyond.
LGBT characters have made great strides in comics lately — we even had a same-sex wedding in the X-Men — but it's about time there were more stories focusing on queer protagoninsts. Enter Beyond, a brand new anthology of comics about LBGT heroes who save the day. With an amazing set of contributors... possibly…
Homosexuality does not exist in the Star Wars universe, according to Bioware, the developers of Star Wars: The Old Republic, the new Star Wars MMO. Have these people not seen Uncle Ziro?
I know it's not really true that you can use mind-control to turn somebody queer and make that person want you, OK? I know that. But sometimes in the happy land of science fiction, you come across a book or movie that makes it seem like the whole frakkin universe has been taken over by a bunch of queer tranny…
June is Queer Pride Month, which means all the gay robots, transgendered aliens, and bisexual artificial intelligences of the galaxy have giant parades and drink too much beer. To celebrate this excellent tradition, we'll be asking some big questions this week about sexual freedom. You know, like which robots are the…
Why are audiences swooning over Iron Man's shiny suit but not over Speed Racer's sleek car? I mean, what the hell is going on when people have already spent nearly $200 million on watching lameass Iron Man get revenge in Afghanistan, but only about $20 million watching the awesome Speed zoom with sparkly CGI pizzazz…
Impossibly perfect men float around naked, surrounded by gears and cyber-creatures, in Kiriko Moth's Yaoi art. Yaoi — the Japanese art of showing lovely young dudes, in sexual situations for a female readership — has been building an avid U.S. following. And now artists like Kiriko are bringing Art Nouveau-esque yaoi…
Some of you humans are probably getting your knickers in a bunch over this thing called "Valentine's Day." There are rituals involving flowers and candy and romantic dinners — all to guarantee that your mate feels adequately adored. But what about the robots who want a kiss? The aliens who pine for love? And what…
You can soon see the story that was too hot for Star Trek: The Next Generation. David Gerrold's AIDS allegory "Blood And Fire" will be an upcoming episode of Star Trek: The New Voyages. Gerrold, writer of "The Trouble With Tribbles" and author of The Man Who Folded Himself, is directing his own script. Still more…
Must-see TV shows are futuristic classics that shouldn't be missed. Of course, not every must-see is perfect. That's why we've rated them 1-5 on the patented "crunchy goodness" scale.

Title: Torchwood
Date: 2006-present

Vitals: A secret organization in the Doctor Who universe hoards alien artifacts and uses them to…