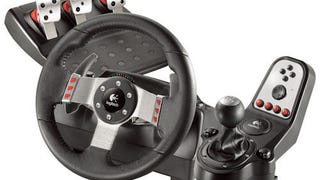 Many virtual rev-heads knew it was coming, but Logitech has now officially replaced its G25 Racing Wheel with the G27. The update adds shift-indicator LEDs that you help know when to up/down gear, and more programmable buttons on the wheel.
If you haven't quite earned a license for Mario Kart driving, you can bypass the tacky training wheel and head straight for a realistic, grown-up solution. Blazepro is now offering a beefed-up racing wheel for the Wii that promises better driving accuracy. And, since the base can be attached to any desktop for better…
Logitech's no stranger to racing wheels, but their latest PlayStation 3 wheel looks even fancier than its predecessors. There's a 900 degree lock-to-lock turn, which means you can maneuver it much like an actual wheel on your Toyota Corolla when sledding about the tracks of Nurburgring. There's also a horn, shifter,…
The Xbox 360 Racing Wheel Retrofit program that Microsoft instituted back in August is well underway, with people getting letters like the one above that we personally received.
Similar to the way that the power cables on the original Xbox had problems with possibly catching on fire, the Xbox 360 Racing Wheel can possibly cause your wheel to "overheat" and "release smoke." Thanks to a couple instances of this happening, Microsoft is instituting a program where you can get an AC adapter…
Hey folks, just a quick note to let you know that the Xbox 360 Racing Wheel just got a price drop to $129. And if you're curious as to whether it's worth it (hell yes), hit up our review from before. – Jason Chen
Thanks to the fact that the standard SIXAXIS controller doesn't have vibration, most game developers aren't going to program in vibration functions to their games on the odd hope that someone will pick up a PS3 Racing Wheel. In turn, PS3 racing wheels—like this one from Logitech—won't have vibration functions either.…