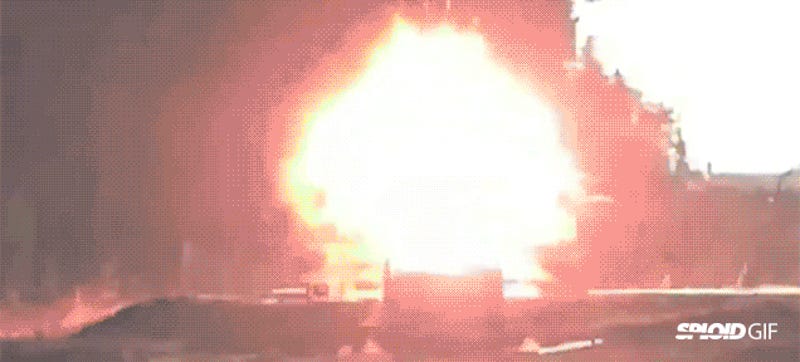 The US Navy will publicly show their formidable railgun at the Naval Future Force Science and Technology Expo in Washington D.C. on February 4. The formidable electromagnetic cannon launches solid projectiles over 100 nautical miles at more than six times the speed of sound. You can see it in action here:
Rail guns are still halfway between sci-fi and battlefield, but the armscrafters at General Atomics are still working to improve the futuristic weapon. Instead of launching clunky "bricks," a new, aerodynamic round is being tested. Git ready fer military porn!
In the near future, US Navy ships won't use explosive cannons. They will destroy targets 100 miles away with the monster 33-megajoules railgun shown in this video. In the words of Rear Admiral Nevin P. Carr: This "really changes several games."
Not to be less than the US Navy, the Army has tested their own electromagnetic rail gun, firing several times at Dugway Proving Grounds. Manufacturer General Atomics calls it Blitzer. I call it Hey Enemy Tank, You Have Been Blended.
How have I not seen this project before? It may not be quite as powerful as the Navy's, but this DIY rail gun packs 5.6kJ. That's five point six kilo Joules of Oh-my-dear-sweet-Geezuss-I'll-never-piss-off-a-DIYer.
The US Navy has just completed a 10-megajoule test fire of their huge rail gun. For the first time ever, they fired a projectile with a velocity of 8,270 feet per second. That's an amazing 5,640 mph, and the gun is only firing at a third of its potential power. The other video shows you what the projectile looks like…
Click to viewAfter the appalling tragedy in Salt Lake City earlier this week where an 18-year-old gunman began indiscriminately shooting people to death, our thoughts drifted toward arming ourselves to the teeth. The off-duty (and armed) cop on the scene saved countless lives, keeping the gunman pinned down until…
Railguns have moved beyond the realm of first-person shooters on a video screen—one was demonstrated earlier this week at the Naval Surface Warfare Center that could put the serious hurt on you, making you feel like you've been hit by a Ford Taurus at 380mph. US Navy brass like the idea of the futuristic weapon, which…