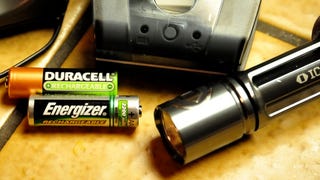 Duracell vs Energizer was one of the headlining tech fights of the '80s, as Walkmanseseses chewed through cell after cell. Today, a better match up is the one between their rechargeable batteries.
Japanese engineers who were tired of sweaty nutsacks quickly draining batteries revealed a prototype of a thermoelectric device that could create electricity using heat produced from laptops, which means more renewable energy and less time being plugged into a wall. When two ceramic semiconductors with different…
There's a reason why standard batteries contain warnings for you NOT to attempt to recharge them. But, if you're either brave or cheap, here's a guide to extend regular batteries by around three charges with 50 cents of parts from The Shack.