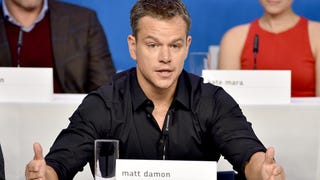 We've been obsessed with Alexander Payne's movie Downsizing for years. And now that star Matt Damon has just broken the box office with The Martian, it looks like Damon and Payne finally got the go-ahead to make their weird-as-fuck satire.
Fox is taking another shot at its canceled film Used Guys, which would have starred Jim Carrey and Ben Stiller as two outdated pleasure clones. But only Stiller is back for the more "romantic" redo.
Paramount/Dreamworks released a ton of new high-res images from Monsters Versus Aliens, which show a slinky outfit for Reese Witherspoon's Ginormica, and more looks at the alien conqueror Gallaxhar. Pics (and minor spoilers) below.
He may be hating on science fiction — well, apart from the movies that he stars in himself, of course — but that doesn't stop astronaut Buzz Aldrin from wanting to see his own adventures in space and beyond from being brought to the big screen. He's even ready to suggest who should star in the potential movie, just in…