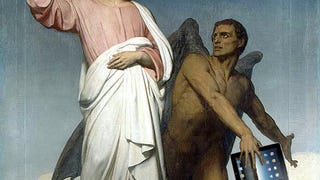 There have been a lot of reactions to the iPad lately. Most positive, some negative. If you're still undecided, look no further than our litanies of iPad resistance and submission for that last little push in either direction. [Giz]
The iPad launched today, and while most of us are buying one, there may be a lot of undecideds among you. Here are the arguments to help push you over the edge—or to pull you back from it:
To kick off our CIA gadget series, I'm starting with something from the beginning, well, before the beginning: covert weaponry sent to resistance fighters behind enemy lines during WWII. They thought of all kinds of disruptive technologies, including exploding edible flour, cigarette-shaped single-use guns and other…
If you are not a heavy gamer, you may not have heard of
Old Grandma Hardcore
. And if you are so blessed as to experience her signature videos for the first time, we will not ruin them for you.