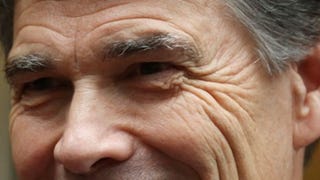 Furious over the failure of his personal crusade to ban abortion in the state of Texas, Governor Rick Perry has called for a second "special session" of the Texas legislature on July 1. Last night's attempt to all but illegalize abortion failed after a 15-hour filibuster by Democratic state Senator Wendy Davis.
By now you've almost definitely heard about Rick Perry's painfully awkward, potentially campaign-ending gaffe during Wednesday night's Republican debate. (You haven't? Here, have a few helpings of sympathetic embarrassment.)
We already know that Texas Governor and U.S. presidential candidate Rick Perry is hostile towards science. Did you know he also doesn't give a rat's ass about your health?