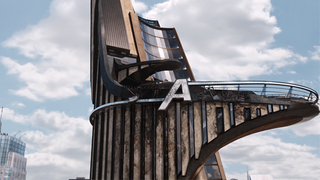 Actors taking home items from the movies and TV shows they work on is a very common practice - but it's normally just a piece of costuming or a small prop. Robert Downey Jr however, doesn't tend to do things the usual way though, and his memorabilia from The Avengers was a little bit bigger than that.
Click to viewMy favorite part about these Iron Man 2 alternate takes is that I can picture Robert Downey, Jr. actually saying most of them. My second-favorite part, obviously: MASK-O! [CollegeHumor]
Watching the iPhone commercial yesterday, I wondered if the mellifluous tones on the iPhone 3G ad belonged to Robert Downey Jr. I emailed Apple, but they weren't interested. So, I asked around in Campfire, our virtual office, if they thought it was Tony Stark. What do you lot reckon?