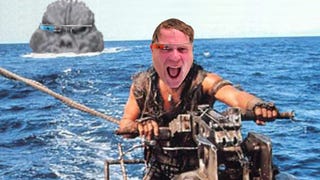 One year ago today, the gods smiled upon us and bestowed man with the greatest, most seductive gift since Prometheus first brought fire down from Mt. Olympus. And to celebrate a full year of having a wet, naked Robert Scoble seared into our memory, we thought we'd mark the occasion with a Photoshop contest.
And more importantly, publicly sharing photos of himself doing it, soaking and unclothed. The future is now.
Robert Scoble did an on-air (or: on Youtube) interview and unlocked his phone while he was talking. Youssef Sarhan noticed his passcode was exposed, and wrote it up on Tumblr. Bobby, Bobby, it's time to change your password!
Retailing at $80,000 for one screen and $300,000 for three screens, Cisco's telepresence technology simulates the act of actually being there, which is way better than traditional teleconferencing. The whole setup is backed by a supercomputer, three plasma screens with 1080p/30FPS video, and is SIP based, running over…