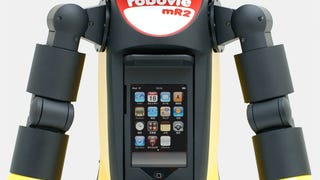 The Robovie mR2 is a robot, sure, but it won't work unless you pop an iPod Touch into it, at which point you'll be able to control it either via the touchscreen or over Wi-Fi.
I have to admit, a robot that would help you buy groceries at the supermarket would be awesome. But I think that Robovie II could be even better.
A while back we told you about a documentary named Japan: Robot Nation that would be on Current TV. Here's another clip from the show. And by the way, it premiers tomorrow night.