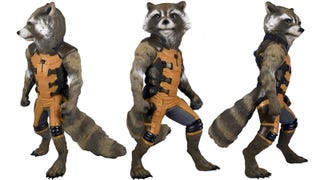 You know what's great about a blockbuster film having a leading character that's only three-feet tall? Using foam and latex you're actually able to make a life-size action figure from it, like this wonderfully-lifelike version of Rocket Raccoon from Guardians of the Galaxy and NECA.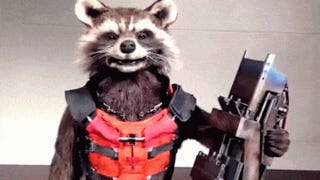 The rush to capitalise on Guardians of the Galaxy's box office success with tie in merchandise has lead to some pretty strange items - take this official Guitar and Guitar strap, for example - but none are quite so petrifying as this new Vinyl creation by Frank Kozik. Not even anime Rocket!
We got to see a little of Rocket Raccoon in action in the first Guardians of the Galaxy trailer, and in this Rocket-centered promo, we get to hear Bradley Cooper give him voice. Update: Now with the rest of the Guardians!