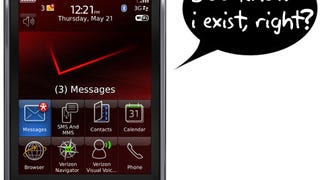 The BlackBerry Storm 2 is the followup to Verizon's most buzzed-about phone of last year, but Verizon didn't help with the news. CrackBerry says the phone didn't pass Verizon's quality assurance. [CrackBerry]
If you're a T-Mo user with a 3G-capable piece, you're probably ready to start, you know, using it.
Cellphone Signal
is reporting on more info of the rollout through 2008, and it's pretty much in line with the city selection . No official confirmation here but the list contains a few more rumored launch dates popping…
Sources for Boy Genius are confirming an earlier rumor stating that T-Mobile's 3G network will get a May rollout in NYC. The sources also update the rumor pointing to May 1st as the actual drop date. [BGR]
We've been waiting for 3G on T-Mobile longer than we've been waiting for The Police to get back together, and it looks like May will be the month that all this patience finally pays off. TmoNews is pegging the first launch to be in NYC, and spreading to the rest of the country's major cities throughout the rest of…
If you're still secretly thinking about getting a Segway but ashamed of having people know you paid that much for a scooter, the Korea Advanced Institute of Science and Technology has something for you. The KAIST has just invented a Segway-like scooter that does pretty much the same thing as Dean Kamen's baby.