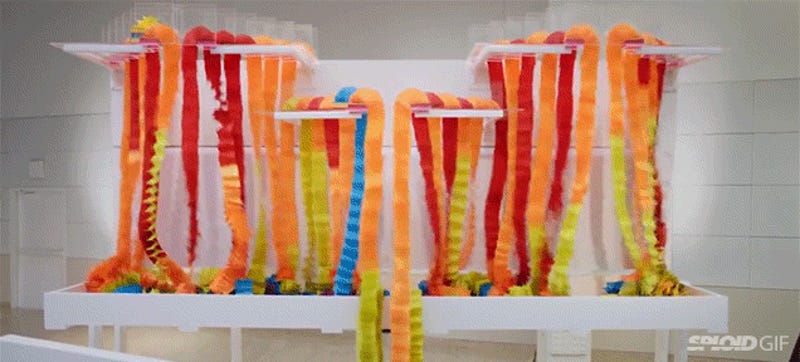 3M used 25,000 post its, 75 rolls of that blue painter tape, and a whole bunch of other stuff to make this wildly complicated Rube Goldberg machine that's actually really fun to watch. Unlike other Rube Goldberg machines, it's not totally obvious how it'll progress from one level to the next, like a slow burn where…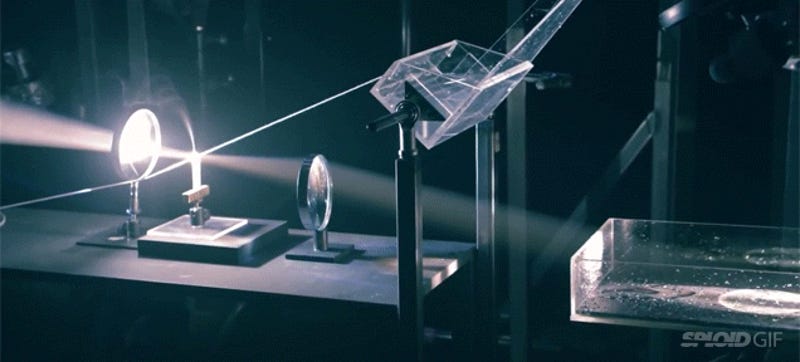 It's always fun to see the chain reaction of Rube Goldberg machines and how one action can cascade into a whole bunch of things happening. This one, from an ad for Japanese technology company au, is particularly cool because it's just powered by light and lens and optics.
Last week, we showed you OK Go's new video, "The Writing's On the Wall," the latest in the band's series of impeccably orchestrated one-take videos chock full of optical illusions and visual tricks. Here's the behind-the-scenes look at how they did it. Short answer: it was frantically precise.
This might be an ad for Beneful dog food, but who cares. The Dog Goldberg Machine is just the greatest, most adorable pup-powered kibble and ball distributor ever.
There's nothing quite like watching a second-grader expertly analyze and explain his application of the scientific method as it relates to the capturing of stuffed monsters to make you question what you've been doing with your life. This kid is could be a real-life Chris Knight.
Two Pratt graduate students, Alex Crawford and Austin Nelson, decided their lives—or studies, anyway—wouldn't be quite complete without having built a Rube Goldberg Machine of their very own. But it's not just a bunch plinking and plopping for its own sake; this complex contraption actually begins and ends with a…
Remember as a kid, when you saw Rube Goldberg-style perpetual-motion set-ups, and wished you could build one yourself? Daniel from St Louis didn't stop there. Using an exercise bike, farm motor and drycleaner rack, the fun even spans the ceiling.
Maybe moving $300 fans is harder than Dyson expected, or perhaps Dyson's engineers are just flat out of things to do. Either way, this Rube Goldberg-ian balloon course, made from God knows how many Air Multiplier bladeless fans, is mesmerizing.
As you know, the allure of
Rube Goldberg-style
contraptions is well documented. There is just something captivating about watching a ball make its way down a complicated track. If you agree, than you will certainly find something to enjoy in OObjects list of 15 rolling ball sculpture videos. It features everything…
Who doesn't love the intricacy of Rube Goldberg machines? A celebration of the most mechanical, complex and absurd way of performing an everyday task, there's nothing quite like watching a cuckoo clock set off a bowling ball that rolls into a pie pan which lifts up some guy's pants before he gets arrested for…
We've brought you Rube Goldberg-style clocks and toys, but none of them are a match for the 156-step device that's just won the annual Rube Goldberg Machine Contest. This year's challenge was to assemble a burger with vegetables, condiments and two bun halves. The meat was pre-cooked... a sensible idea to avoid fires…