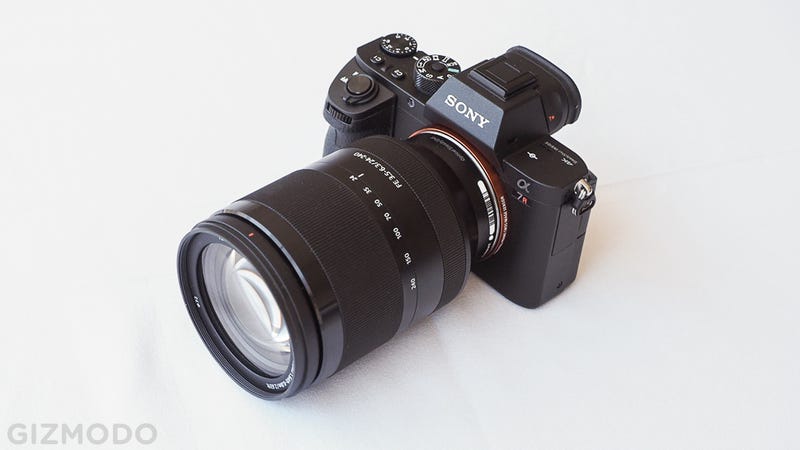 Sony builds some of the world's best camera technology—so good that even competitors like Apple and Nikon buy their sensors. Now, Sony's cramming some never-before-seen, next-generation guts into three of its hottest cameras. The new A7R II, RX10 II, and RX100 IV are promising unheard of levels of performance.
My wife loves technology. Hell, she spotted the job posting that landed me my first tech writing gig. She also loves sharing snapshots with friends. So when I told her that the Sony RX100 III could sling amazing selfies to Instagram with a tap of her phone, she was understandably stoked. When we packed our bags…
From about 2009-2012, Canon's S-series point-and-shoots were the best tiny little cameras you could buy. Then, Sony's RX100 line conquered it with similar functionality, but a much larger 1-inch image sensor that blew Canon's dinky 1/1.7-inch chips away. With the PowerShot G7 X, Canon strikes back.
The RX100 was instrumental in forging the high-end point and shoot category of digital cameras when it debuted in 2012. Last year's Mark II version was a minor spec bump, but the new RX100 Mark III has some startling features you'd ever expect from a camera so small.
Last year, Sony overhauled basically its entire line of cameras from the very bottom to tippiest top. Surprisingly, the most exciting of the bunch weren't mirrorless cameras or DSLRs, but a novel pair of fixed-lens Cyber-shots: The RX100, a point-and-shoot superior to all others, and the RX1, a compact full-frame…
A leak from an instruction manual suggests that an update to Sony's excellent RX100 point-and-shoot will bring a tilting screen, Wi-Fi, and flash hotshoe. That should make an amazing camera even better.
Really exciting point-and-shoot cameras only come around every so often, and last year's Sony RX100 was one of them. It blew its pocket compact competitors away. It also cost $650, which is pricey for an enthusiast camera. The new scaled down Sony HX50V mimics the RX100's covetable aesthetics, and packs some…
We reamed the Sony SmartWatch in a recent review. It was almost mean of us; it was definitely emotional. And while we stand by our opinion, another new Sony product perfectly illustrates why we got all pissed off: The gorgeous, awesome RX100.
With DSLRs like the Canon T2I and Nikon D3200 becoming increasing accessible, and smartphone cameras becoming increasingly quality, fixed-lens point-and-shoot cameras have become something a forgotten breed. But with the introduction of the RX100—complete with its impressive 1-inch sensor, f/1.8 aperture, and compact…