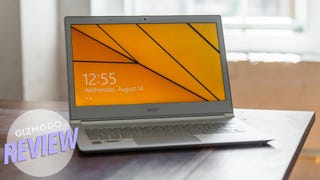 Laptops are at a point right now where they should all be more or less excellent. Ultrabooks are into their third year of relevance, and the screens and processors that are widely available are good enough that you can piecemeal together a perfectly acceptable laptop from chaff, more or less. So making a great one is…
The Viliv S7, that hot little number we spec'd for you in January, is all but out and about today with one little caveat: Its not so little asking price is pegged between $630 to $800, depending on options.
Pentax updates its S series with the Optio S7, raising the megapixel count to 7.0 and bringing along a 3x optical zoom and 2.5-inch LCD viewscreen. Pentax follows suit with a number of other camera makers, trying to help users sharpen up their images by giving them faster response, raising the ISO to 1600. This gives…
Sanyo adds another addition to its Xacti line, the S7, packing 7.1 megapixels into its slimline form factor. Add to that a 2.5-inch LCD viewscreen along with video recording capability at 640x480/30fps, and you have yet another acceptable choice in this increasingly crowded field of compact shooters. One…
The Motorola S7 Bluetooth headset has apparently been approved by the FCC. Don't fret, this is not another pair of Oakley Thumps, but the trick here is that the headset can be attached to your own eyewear, and a mullet is optional.