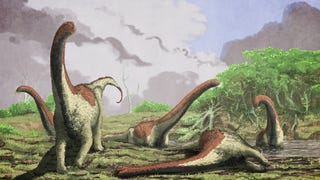 Another week, another titanosaurian dinosaur. The latest discovery was made by Ohio University paleontologists who describe a large-bodied sauropod that lived in Africa during the late stages of the dinosaur era.
Introducing Yongjinglong datangi, a titanosaur that lumbered across the fields of China during the Early Cretaceous period some 100 million years ago. The specimen discovered, a juvenile not yet fully grown, measured nearly 60 feet in length, making it one of the largest species to ever walk the Earth.
Over on Dinosaur Tracking, Brian Switek has posted this most excellent photograph of the robo-zombified head of the Brontosaurus model from the original, 1933 King Kong. The mock-up now resides at The Dinosaur Museum in Blanding, Utah.