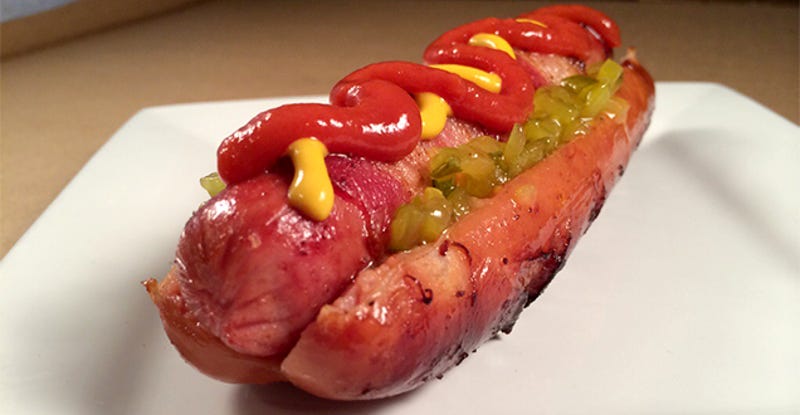 The cured pork meat and fat sausages above—a type of thin salchichón called fuet in Catalonia, Spain—are truly delicious, with a wonderfully intense umami flavor. They are also excellent for your health, as good as having a yogurt, because they are full of probiotics. Oh, they are also made with poop. Baby poop.
I like sausages. I like grilled sausages. I like fried sausages. I like beef, pork and chicken sausages. I even like vegetarian sausages. Sometimes when you cook sausages, they burst. This occasionally happens if you try and cook them too fast. It can also happen if the brand of sausage you are cooking is overly…
What I would give to wrap my legs around a big purple sausage...oh sorry, you just caught me daydreaming about Nienke Klunder's rocking hot dog sculpture. Isn't it fantastic? Apparently eight were made from fiberglass, aluminium, leather, maple wood and chrome; the purposes of which are unknown. [Nienke Klunder via …
You learned the unfortunate way chicken nuggets are made. Now feast your eyes on the goopy, meaty glory of mechanical sausage making machines. They come in all shapes and sizes, oozing meat for your eating pleasure.
I'm vegetarian, dairy-intolerant, and allergic to wheat-based products, but it doesn't mean I cannot appreciate a tasty sausage carpet when I see one. The Wursttepiche (in german, Wurst means sausage and Teppich is carpet) would grace any interior with its yummy cuts, available in flavors such as mortadella or…
Jurgen, our eBay Ninja, found this charming little site that teaches you how to carve hot dogs into little shapes. Apparently the people in Japan are so bored they have to resort to making sausage elephants and reading Manga. Give them a paintbrush and some primer. They can come over and paint my stairs.