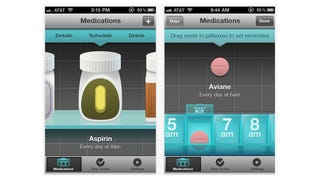 Remembering to take your medication on time can be an important part of your routine. Pillboxie is a simple iOS app that lets you manage your medicine in a playful way, showing you what you need to take while reminding you. [iTunes]
Here it is: the complete io9 guide to every Comic Con panel you just can't afford to miss. Sadly there's a lot of overlapping and you'll face some tough decisions. But we're still more than excited. Best year ever, perhaps?
Thursday's San Diego Comic Con schedule has been released, and we're picking out all the stuff you absolutely, positively cannot miss. From a Terry Gilliam panel to James Cameron's Avatar, and even a Middleman cast reunion.
Get your weekend planners out now - The entire schedule for this year's San Diego Comic-Con has been released, from Wednesday (Yes, something's happening on Preview Night this year; two special screenings of the Fringe pilot) through to Sunday. We'll have a rundown of our choices for what you should be attending later…