It's been less than a month since Mythbusters aired its final episode after it was canceled late last year. Actually, I guess we should call it the "formerly final" episode, as the Science Channel has just confirmed that the show is living on... but with new hosts, found through a reality TV competition.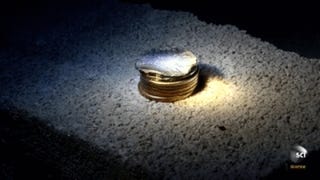 Burning ants with a magnifying glass is a long-accepted childhood pastime and possible indicator of sociopathy. But when Kevin Moore and Grant Reynolds at the Science Channel got the idea to more effectively harness the sun's destructive heat, they decided to go big...like 1,5oo degrees Fahrenheit big.
The same day that Neil deGrasse Tyson's new Cosmos series premiered to rave reviews, talk show host Craig Ferguson announced at SXSW that he'll be producing a science show based on the popular Facebook series I Fucking Love Science. Fuck yeah.
After a tearful panel, the reunited cast of Firefly sat down for a question and answer session with reporters at San Diego Comic-Con — and we were there. Here's our round-up of all the best moments from the Firefly reunion press conference.