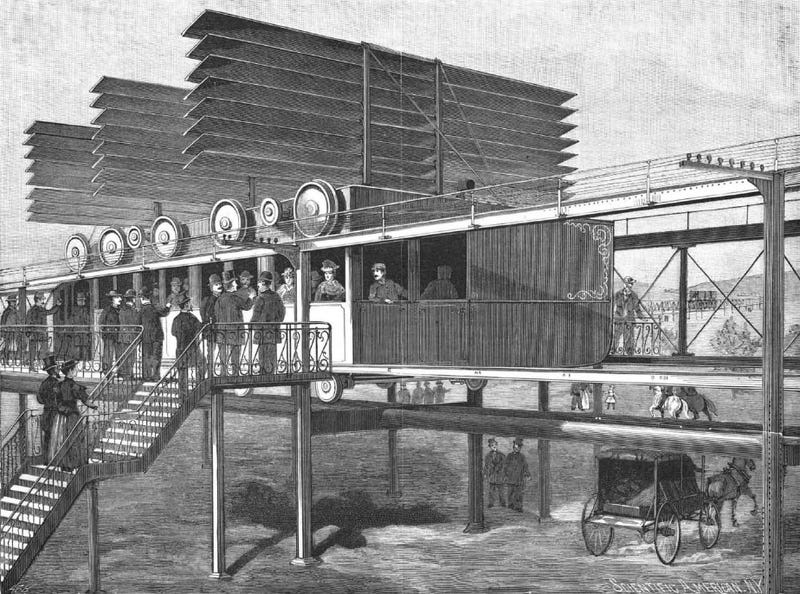 In 1894 the Wright Brothers' first flight was still nearly a decade away. But people were obsessed with figuring out how to use powered flight for any number of applications. The May 5, 1894 issue of Scientific American featured one such idea—an aero-train that could zip across the country at 150 miles per hour.
Recently, we did an experiment: We took an outdated issue of a respected popular science magazine, Scientific American, and researched exactly what happened to the highly-touted breakthroughs of the era that would supposedly change everything. What we discovered is just how terrible we are at predicting the long arc…
You may have seen the video above making the rounds on the old internet box. An anonymous Russian man is using his horse on a treadmill to power a log splitter. It's a brilliant idea, but far from new. Back in the late 19th century, the horse treadmill (or "endless floor") was considered the latest in high-tech…
In the 1950s Americans were obsessed with push-button convenience. The future promised push-button meals, push-button cleaning, and even push-button schools. But this 1955 ad for ball bearings imagined something even weirder for the world of tomorrow: the push-button lumberjack. And amazingly, it was a vision that was…
In an effort to stick out from the crowd, advertisers often come up with clever ways to reach consumers outside the traditional world of media. These efforts come in many names and varieties: experiential, guerrilla, wild postings, the list is seemingly endless. But despite how clever many of these marketing tactics…
With all the Apple fakes being tossed around the internet in the hours leading up to WWDC, how can us unassuming consumers figure out what's real and what's not? Luckily, Scientific American has got our backs with several ways photo editing masters spot a fake photo.