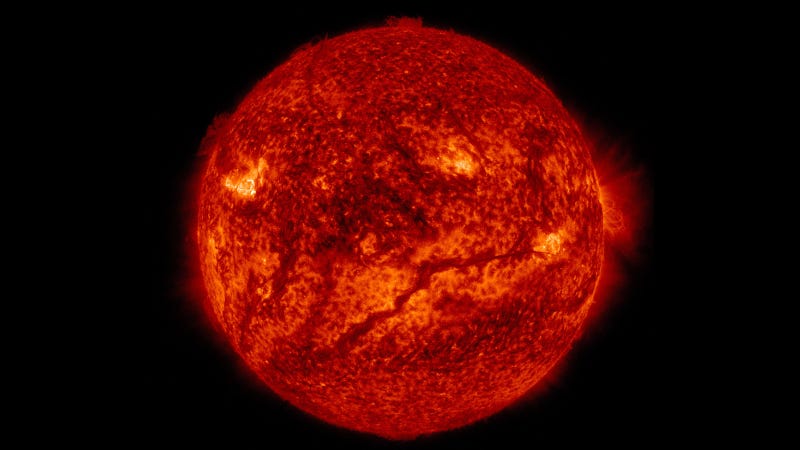 NASA's Solar Dynamics Observatory captured a huge filament on the unhappy face of our Sun on February 10th. The scary fissure, which looks like a grimace on the surface of the star, is actually an enormous swatch of colder material hovering in the sun's atmosphere.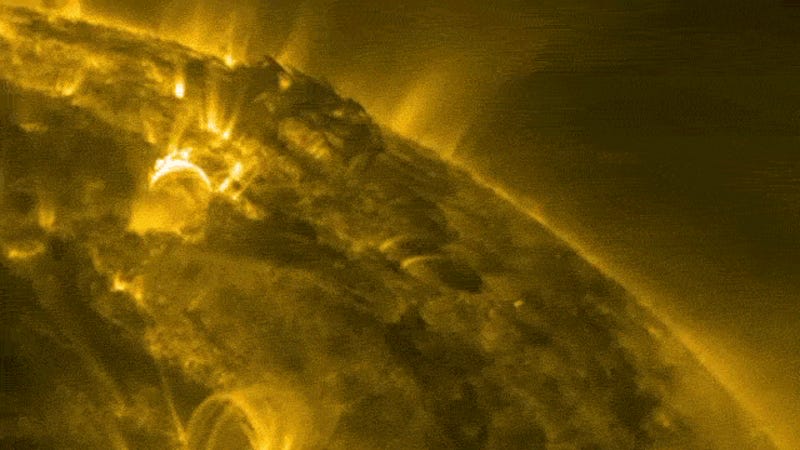 Researchers at NASA's Solar Dynamics Observatory (SDO) posted a short video on their Facebook page, showing a "small, hovering mass of twisted strands of plasma" as it "shifted back and forth before erupting into space."
Holy Jesuspants. The image was already astonishing but this video made my head spin. Watching this magnificent violence from every angle is a good way to realize how lucky we are to be alive, precisely because of that titanic ball of fire in the sky.
Rejoice, for comet Lovejoy has survived its close encounter with the Sun! NASA's Solar Dynamics Observatory has recorded the exact moment it went close behind the Sun, then out again on the other side, surprisingly more or less intact.
We knew that sunspots change quite rapidly from photos, but this video shows how fast this phenomenon is. The video was made from visible light frames captured by the NASA SDO's Helioseismic and Magnetic Imager. [NASA Goddard Flickr]
The moon passed between NASA's Solar Dynamics Observatory and the sun for the first time last week, yielding this incredible eclipse photograph. Sorry, awesome solar flare in the bottom left corner, you'll have to share the spotlight this time.
This is the Atmospheric Imaging Assembly. Together with the Helioseismic and Magnetic Imager, and the Extreme Ultraviolet Variability Experiment, it will capture the Sun at IMAX resolution every ten seconds. They will travel together inside NASA's Solar Dynamics Observatory spacecraft.