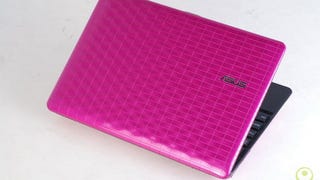 HardwareZone got the scoop on this upcoming Seashell 2 netbook designed by Karim Rashid. It has a 1.8GHz Pineview Atom N450 CPU, Windows 7, and a new slide-out battery…but its other specs are boringly normal—no Nvidia Ion graphics.
Since the original, 7-inch Eee, netbooks have just gotten bigger. First 9, then 10, and now even 12 inches in size, most of these ultraportables are now just...quasi portable. Luckily, the Eee 1008HA Seashell reminds us what made netbooks so enticing in the first place: Size.
The Asus 1008HA "Seashell" (their newest, hottest Eee) isn't even out yet, but the company has already announced two new models based up on the similar tapered formfactor, the 1005HA-M and 1005HA-H.
Yes boys and girls, this tapered sliver of a machine really is an Eee PC. And it's really a netbook. It's $429. Here are the specs: