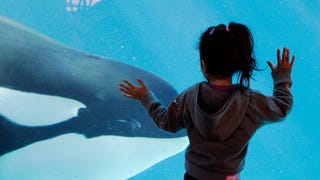 SeaWorld has announced that it's ended the practice of breeding orcas in captivity. It'll also stop running its theatrical shows, replacing them with what it calls "natural" encounters with the animals—but only by 2019.
Several of the biggest theme parks in the United States are increasing their security measures because of recent mass shootings and terrorist attacks occurring, uh, everywhere, constantly. Disneyland, Universal Studios, Disney World, and SeaWorld will all start using metal detectors; Disney World is also banning the…
Let's face it—with all of the controversy surrounding its parks, SeaWorld is a sinking ship. It's time we revert back to textbooks and documentaries to learn about undersea life, and there are far better uses for the parks' land anyway. I have an idea, and it's the best idea: let's turn all the SeaWorlds into race…
So there's good SeaWorld news and bad SeaWorld news. The good SeaWorld news is that, after decades of criticism, the park will phase out its infamous Shamu show next year. The bad SeaWorld news is that the killer whales will just star in a new show.

One less entry on a resume that's a thousand jobs long isn't going to hurt her career, but a few days ago Mattel confirmed to the New York Post that it had stopped production of its SeaWorld-themed Barbie products as a result of concerns raised by environmental groups.
SeaWorld is back in the news in a big way this week. First, the park announced an ill-timed, controversial expansion. Then, someone finally claimed responsibility for a highly-visible protest against the park back in May which changed the freeway signage to "Sea World SUCKS."
SeaWorld hopes putting some waterproof lipstick on itself will make you love it again. The amusement park, which has been submerged in a PR nightmare ever since Blackfish came out last year, announced sweeping new design changes Friday in an effort to lure back fans.