In Adam Lashinsky's book Inside Apple, he examines how brutally insane and awful it is to work at Apple. Turns out having plainclothes spies and murky job descriptions isn't enough because Apple sometimes makes its new employees work on fake products until they prove themselves trustworthy.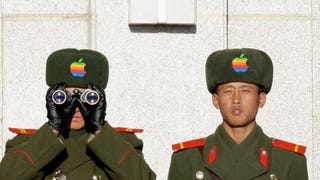 You might have a stressful job—everyone's is, sometimes. But does your job involve an office with windows that inexplicably frost, plainclothes agents that spy on you at bars, and instant firing? Welcome to Apple, says Fortune's Adam Lashinsky.
It was spring cleaning time at the NSA, who dropped a staggering 50,000 pages of declassified documents into the hands of the National Archives. A lot's on the mundane side—so here are the best looking eight:
The military doesn't want to be the source of the next WikiLeak shit-storm, and is going to extreme means to ensure this—prohibiting the use of all disks and drives on its secret network, under penalty of court martial.
If you're a software developer lucky enough to get a look at the iPad before its release, you'd better be ready to submit to some of the toughest security measures this side of Super Max.