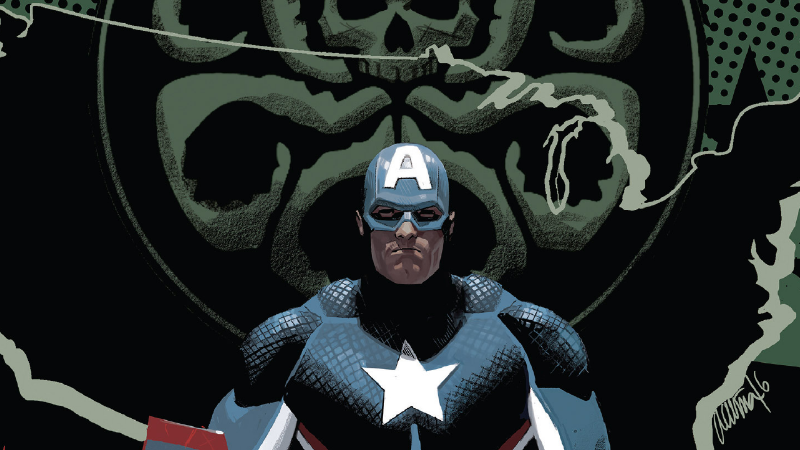 If you keep up with Marvel Comics, chances are you know that all-American hero Steve Rogers has secretly been a Hydra agent for decades... thanks to the Red Skull, a Cosmic Cube, and a bit of altering reality. It's led many people to decry that Captain America has become a Nazi. But is true? Is Hydra made up of Nazis,…
In a few weeks, Marvel will kick off Secret Empire, the culmination of a year-long arc that has seen Steve Rogers, a walking symbol of American exceptionalism and patriotism, revealed as a life-long agent of a fascist supervillain organization. But aside from that minor detail, they'd really like you to know that…
The die is cast. After months of working covertly to bring his plans as an Agent of Hydra to fruition, Steve Rogers, the original Captain America, has made his first big step toward the incoming Secret Empire event. And even though we've been waiting for this to happen, it's a pretty surprising move nonetheless.

When Steve Rogers makes his allegiance to Hydra public at the start of Secret Empire, the superhero community is naturally going to be pretty shocked. But before he can enact his crazy plan to rule the Earth, Natasha Romanov is going to try and stop him, and she's recruiting a few friends to help her resistance.
Secret Empire—which will see Steve Rogers' recent double life as an agent of Hydra revealed to the wider Marvel Comics world—is the company's next big comic event, and thus, it's already touting range after range of variant covers to go with the series. But one in particular is causing a lot of anger: because it links…
If you're reading Marvel comics right now, then you're probably aware that while Steve Rogers has taken up the Captain America mantle once more, something is... very off. Like, "he's secretly a fascist agent of Hydra planning to get space aliens to invade the world" off. Confused? We're here to get you caught up on…
Ever since Marvel started teasing it, we've long suspected that its upcoming Secret Empire event would be about Steve Rogers' revelation to the wider Marvel world that he is secretly one of Hydra's masterminds, and is trying to take over the Earth. Well, thanks to ABC News, we know it's going to be exactly about that.

Strap yourselves in, folks. Civil War II may have barely just ended, Inhumans vs. X-Men may have only just begun, and Monsters Unleashed might be on the way, but Marvel is already teasing a major new arc—and it seems like it's going to be focusing around a certain evil Captain America.