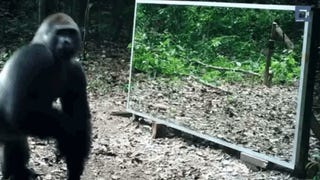 Of all the animals that exist on this planet, only a precious few have the capacity to recognize themselves in a mirror. These fascinating — and at times hilarious — videos taken by photographer Xavier Hubert-Brierre reveal the reactions of various animals as they gaze upon their reflections for the very first time.
By administering mild electric currents to the brain, neuroscientists from Frankfurt University have successfully induced self-awareness in sleeping volunteers. Amazingly, the technique could be used to help people take better control of their dreams. But it's also a discovery that's offering critical insights into…
A number of websites recently reported on a breakthrough in which a robot was alleged to have successfully passed the mirror test. In turn, many of these news sites declared that the machine had achieved "self-awareness," proclaiming it to be an important step forward in the development of advanced robotics.
Neuroscientists who study consciousness have suggested that self-awareness depends on the presence of very specific "higher order" regions of the brain. In turn, that means that any serious impairment to these critical areas would virtually eliminate any sense someone has of themselves as a separate person. At least,…