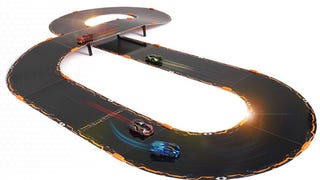 What's better than a set of tiny artificially intelligent cars that drive themselves around a track while duking it out with lasers and tractor beams? Well, what if you could configure that track however you want? That's the name of the game with Anki Overdrive, coming this September from the geniuses at robotics…
Google is a front runner in the autonomous auto future. Back in May, Google showed off an early prototype, a hack together little car with an exposed roof sensor and non-functioning headlight stickers. Today, in a short blog post, the team revealed the first fully functioning model.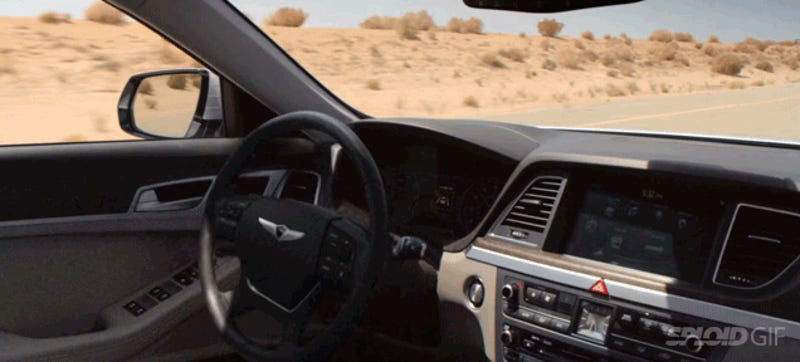 If Volvo had to appeal to Van Damme's epic split to sell more trucks, Hyundai just released this insane self-driving demonstration to try to sell their vehicles: A group of stuntmen jump from the roof of moving cars leaving them on their own. It's impressive to see the cars driving and braking without a driver.
Tonight during its CES keynote detailed what it means about the future of mobility including self-driving cars and connected technologies. Importantly, it detailed the brain that will ultimately allow a car to drive itself—by rolling out its "piloted A7". The car is gorgeous, as for the brain, it looks like a massive…
You might think you've got the most badass stroller at the playground, but it's got nothing on Xandon Frogget's creation which adds motors and a wireless steering system using a Wiimote controller. And thanks to an onboard Kinect sensor, his toddler can even drive it without the risk of crashing into anything.
In a few short years Volvos-the fancy ones, anyway-will include a cruise-control system that lets your car drive and steer itself through crawling traffic. So if your daily commute involves a long stretch sitting in a jam, you'll be able to sit back and read a book, get caught up on work, or just keep your hands free…
Google is already testing its autonomous cars on the roads of California, and plenty of other manufacturers are starting to muscle in on the act, too. But when they hit the roads, how do you go about policing a city full of self-driven cars?
Everybody's working on self-driving cars! Google, Ford, Volvo and now even the ultimate driving machine, BMW, is trying their hand at hands free driving. BMW's self-autonomous system uses four types of sensors, radar, cameras, laser scanners and ultrasound distance sensors and can even change lanes to zoom past a…
Volkswagen is testing a self-driving system that lets you travel up to 80 MPH. It maneuvers the highways like a champ and even handles the stop and go of traffic jams.
So what, Lexus had its "self-parking" car. Big deal. A Chinese company has developed a car that, for all intents and purposes, drives itself. The car, a modified Hongqi HQ3, is able to stop at intersections, make turns, stay in between the lines (goodbye DUIs!) and, for good measure, complement the passengers. Right…