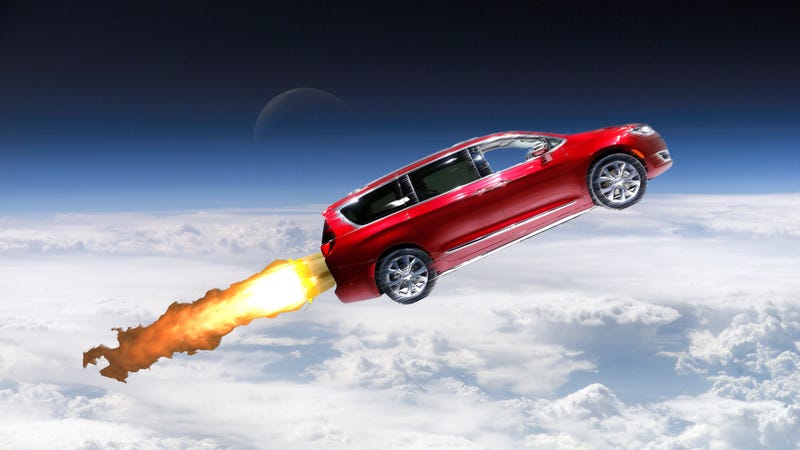 The news that Google's next self-driving car will be a modified Chrysler Pacifica hybrid has quickly elevated "minivan" from the punchlines of dad jokes to a totally serious solution for our transportation troubles. It's not surprising at all. Zipping a bunch of people and their stuff around a city safely is exactly…
Google's self-driving car might be intentionally designed to look cute and innocent, but as we all know, puppy-dog eyes are not enough to escape the police.
This Dodge Caravan snapped in Orlando this morning certainly looks like one of Apple's supposedly pre-autonomous minivans that are currently swarming the country. Have you seen one of these things? Help us figure out what's happening here.
Earlier this week, we heard billionaire entrepreneur Elon Musk describe his vision for the future of self-driving vehicles. Turns out, when Musk said "we'll be there in a few years," what he actually meant was, his company, Tesla, will be there this summer.
Google is a front runner in the autonomous auto future. Back in May, Google showed off an early prototype, a hack together little car with an exposed roof sensor and non-functioning headlight stickers. Today, in a short blog post, the team revealed the first fully functioning model.
We've moved beyond the geewhizOMG phase of autonomous cars and into the dirty, nasty, contentious world of legislation and regulation. The California DMV has issued its rules that Google (and others) have to abide by, and with that fight over, now we know what the crew from Mountain View wanted to hide.
Google's biggest day of the year is here: Google I/O! And along with fancy developer seminars with enticing names like "open-source technologies from the Hadoop ecosystem as part of your Cloud toolkit," we're also going to get some Fun Announcements. Here's what we're expecting, what we're hoping for, and what'll have…
Some lucky attendees of this week's TED conference were given rides in Google's self-driving car. And one in particular was kind enough to take a video of what it's like to ride shotgun. Plenty of NSFW language, because THE CAR IS DRIVING ITSELF. [YouTube via Scobleizer]
In Your Flying Car Awaits, author Paul Milo discusses "robot butlers, lunar vacations and other dead-wrong predictions of the 20th Century." Here are 10 calamitous tech failures. Even the ones that did make it aren't anything like their original visions.