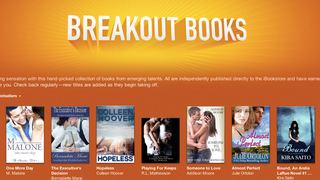 Apple has added a new section of the iBookstore called Breakout Books that highlights up and coming self-published books from "emerging talents."
Skeptical of a little e-book you've never heard of that has 28 five-star reviews on Amazon? You should be. Turns out in many cases, the authors are paying for reviews.
Amazon's Kindle hasn't just revolutionized the publishing industry by making dead tree tomes increasingly obsolete. It's also opened the door to thousands of self-made Shakespeares, self-publishers who sell their written wares—sometimes very lucratively—online. Oh, and spam. Lots and lots of spam.
Amanda Hocking doesn't have a deal with a major book publisher. Just as well. Because the 26-year old author is making millions self-publishing through Kindle, selling 100,000 copies of her books each month and keeping 70% of the proceeds.