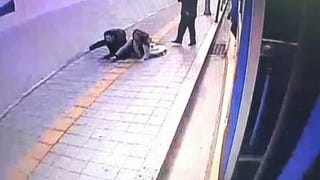 If you're a person with irrational fears of urban horror stories, stay far far away from this real-life video of two people falling into a sidewalk hole in Seoul, where sinkholes are a mysterious and apparently growing problem in the city thanks in part (maybe?) to super tall skyscrapers. They step off a bus—only to…
Korea has undergone rapid change over the last century, with Seoul metamorphosing from the first East Asian city to light its royal palace with electricity to arguably the most modern city in the world. Photographer Sungseok Ahn captured change by setting up a screen and projecting the old on top of the new.
Seoul pastor Lee Jong-rak has an unusual operation going on in his house. Caring for disabled kids isn't anything out abnormal for a religious charity—but having a literal baby dropbox attached to the side of your home, is.
Over in South Korea, an art exhibition with a twist has opened, allowing people to get up close to Van Goghs, Monets and Millets for the first time. If you call Samsung TVs displaying the artwork an "exhibition," anyway. [AkiNews]
Korean boffins have created a new type of cellphone battery that responds to the human voice, meaning you get rewarded with juice the more you talk into it. The so-called "sound power" works when the tiny strands of the zinc oxide pressed between two electrodes react to soundwaves, which generate electrical currents…
After Osama's death, the US put itself somewhere on "let's be careful" and "poop your pants" level of heightened alert, bracing itself for retaliatory action. So far, so good—but Samsung, of all targets, was threatened today. By whom?
The Banpo Bridge in Seoul, South Korea just got a major facelift in the form of a 10,000-nozzle fountain that runs all the way along both its sides. They were just installed last month, but already the bridge has turned into a major tourist attraction. Which is understandable, as I've certainly never driven over a…