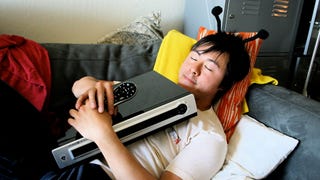 It looks like TiVo's 9.4 Summer Update has been released ahead of schedule and will supposedly be hitting every box by month's end. This update brings six new features, two of which actually seem really useful for most TiVoers. Folders will now have the option to be played or deleted, and the guide can be viewed at…
TiVo must be wanting to clear out its back stock of Series 2 machines, because we haven't see many of these free after rebate deals for a while. From now until September 8 (when the rebate expires), you can your own 80-hour Series 2 for $0 after mail-in rebate. Your service has to be activated by October 8, or else…
TiVo is still trying to clear out all of those oldie-moldie series 2 TiVo units. They are featuring three separate deals on refurbished units. Get an 80-hour single-tuner series 2 TiVo for free, a 80-hour dual-tuner series 2 TiVo for $50 or a 180-hour dual-tuner series 2 TiVo for $130. All three deals require signing…
Best Buy has a rebate and special that will actually profit you one penny for buying a Series 2 TiVo, after all is said an done. The Series 2 unit actually costs $219.99 at the checkout, but they tack on a $170 mail-in-rebate on the TiVo bringing the price down to $49.99. Best Buy will also give you a $50 gift card…
TiVo's Fall 2006 service update is available, and you could be the first among your (incredibly nerdy) friends to get Wireless WPA support, "enhanced support for recording live events", and "improved system performance." We're all for improving system performance around here, so go check out this update to see if your…
TiVo is shipping the Glo Remote, the luxo-premium controller that's normally included with the TiVo Series 3 HD box, as a $50 standalone product. Of course, it works with the Series 3 but also works with most Series 2 units, too.
TiVo is having a super special on their older, Series2 TiVo units. TiVo is offering up the 80-hour Series2 box with one-year of service for $125 with free shipping. I'm not a big TiVo nut, but Froogle is showing TiVo Series2 boxes still going for $200, and TiVo service is $20 per month. If my math is correct, this…
Here's a great deal if you're not averse to rebates: Buy.com is offering the TiVo R54080 Series2 Digital Video Recorder for a price of $0.00. Free? Well, almost. The site is selling this 80-hour TiVo, which includes the latest KidZone parental censorship capabilities, for $150, and then there's a $150 rebate.