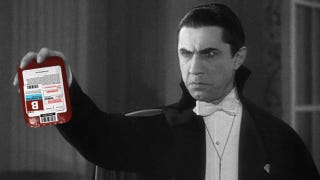 It may sound like a Halloween prank, but the Balkan News Agency claims that a team of scientists in a Transylvanian university has created artificial blood. The researchers say that they have successfully tried it on mice. If human tests work, this could be one of the biggest breakthroughs in modern medicine.
When you're writing a SF novel, you have none of the budgetary and practical constraints that hinder SF TV shows and movies. You can have a giant space squid eating the Moon if you want. There are literally no constraints — except for the need to make sense, says Monster author A. Lee Martinez:
We hope you're proud of yourselves. Update: See the explanation here.