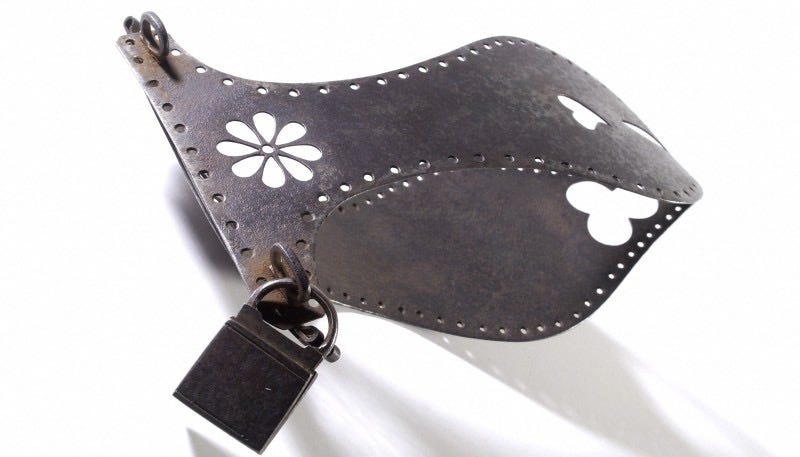 It's the stuff of legends: the knight riding to the Crusades with the key to his lady's chastity belt tucked under his armor. But it's about as real as stories of Prester John or the Holy Grail.
Humans didn't invent masturbation. We get the urge because our ancestors did too, even back to the earliest mammals and reptiles. It's likely that as soon as animals evolved brain circuitry that made stimulating sexual organs rewarding, individuals started taking the opportunity to reward themselves.

People have ascribed sexual powers to certain foods for centuries, but there's absolutely no scientific evidence any of them will actually give you anything beyond calories and vitamins. But what the hell? Every so often, I'll try some out and let you know what they're like. As you read, imagine that I take a bite and…
Sex should be fun, but for many people pain is not. Nevertheless, sex sometimes surprises us with a side of pain. It might be fleeting–from a lack of lubrication, an unexpected muscle cramp, some chafing or pinched skin, or it could be the result of a more serious medical condition. But whether it's from shame or…
Everything is hackable — you can jailbreak your phone to get better apps, but you can also mod your own eyeballs to have night vision. Where do we go from there? Your libido, of course. Programmable vibrators are the new frontier in customizable gadgets, and we got a taste of what they're like.
Every time someone ejaculates, it produces millions of sperm. But the average pair of testicles produces billions of sperm cells over an entire lifetime. Why don't they create all of their sperm in one go? Answer: Because testicles have a complicated process to avoid running out of sperm and endangering future…