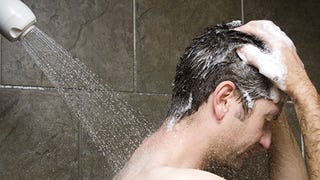 Welcome to Reading List, a quick tour of this week's great prose around the interwebs. So, how's your Sunday going? Fall is in full swing, and we have a full plate of tech coming up this week. Embrace the slowness of Sundays and take a look at some of these long reads around the web you might have missed. We've got…
What would happen if you went a year and a half without washing with soap and shampoo? Would your girlfriend ditch you? Friends loathe having to invite you 'round? Or, like Richard Nikoley and Sean Bonner, would life just...go on?
Muji's shower radio is shaped like a shampoo bottle, but we're not sure why: Is it just to blend in with other shower accoutrements? Or does the Muji Shower Radio have a dark secret from which it needs to hide?