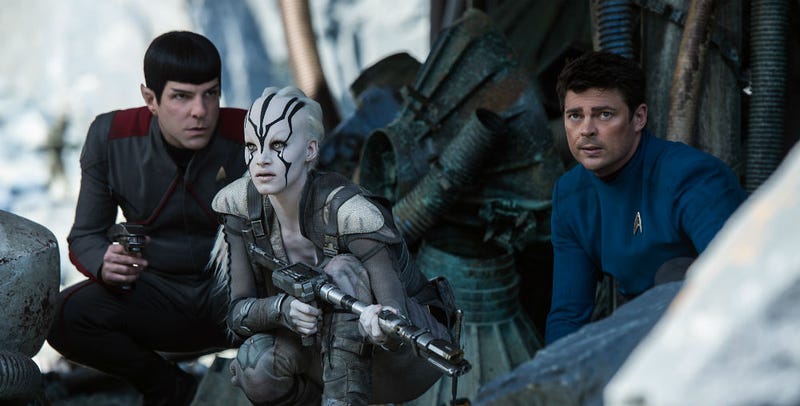 This year marks the 50th anniversary of Star Trek and the latest film, Star Trek Beyond, is well aware. Its mission? Give fans a film with the spirit of the original series, but also figure out what it actually means to Trek through the Stars. The stardate is August 7, 2015, and we're witnessing day 30 of 77 on the…
There's a new Star Trek movie coming out in three months—but Star Trek Beyond might as well be shielded by a Romulan cloaking device. It's been four months since we saw the film's first trailer, and since then the film's marketing has gone almost completely silent. Then, this week, things only got weirder.
In eight days, everyone will find out that IMF is in a bad way. As Mission: Impossible Rogue Nation begins, the Impossible Missions Force is struggling to survive on multiple levels. Only Ethan Hunt (Tom Cruise) can restore the agency In this exclusive featurette, you'll see Hunt has his work cut out for him.

There's been a running theme with the trailers for Mission: Impossible Rogue Nation trailers: they're kind of ridiculous (in the best way), right down to flutes that are also guns. Sadly, the movie's final trailer does not return to the wonderful gun flute, but it keeps the crazy action. Huzzah!
A special University of Edinburgh exhibit offers a chance to view one of the library's most bizarre and fascinating artifacts: a letter, stashed in a Victorian-era scrapbook, written in the blood of William Burke — half of the murdering-for-profit duo commonly referred to as Burke and Hare.
I loathe following celebrities on Twitter, but I make an exception with British actor Simon Pegg. He's classy, funny and knows how to use Twitter correctly—something you only have to look at Courtney Love's Twitter feed to appreciate. Pegg wrote for the New Statesman that he grabbed his Twitter handle early to avoid…
Echoing the opinions of Francis Ford Coppola and Roger Ebert, Simon Pegg took to Twitter today to voice his opinions on 3D movies. Even 3D porn was under fire: "Could you seriously masturbate knowing you look like the nutty professor?"