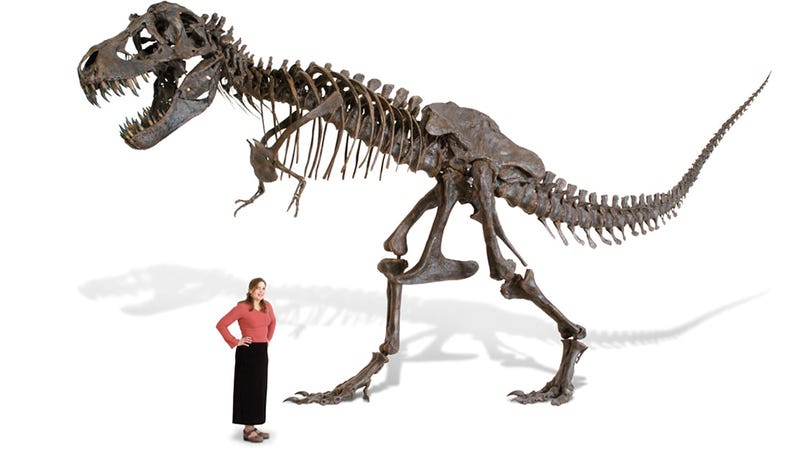 An animal skeleton is made up of hundreds of tiny bones, many of which are too fragile to be handled by human hands. That's why many osteology departments at museums have a special team exclusively devoted to the careful cleaning of these specimens: A colony of millions of flesh-eating beetles.
Because unfortunately movie versions of medical textbooks are all too rare, if you're cramming for an upcoming exam on the human skeletal system and the last thing you want to do is spend the night reading, this wonderful $32 tome can be turned into an almost six-foot tall paper skeleton. Nothing beats hands-on…
A glowing neon Budweiser sign helps set a festive mood in your man cave. Unless you're going for more of a goth-like feeling of despair and hopelessness. In that case you'll totally want Eric Franklin's glowing skeleton sculpture hanging over your bar.

Artist Marc da Cuhn Lopes offers up a reminder that the skeletons of imaginary, disproportioned creatures lead normal lives just like the rest of us. They just have a few more existential factors to consider. [Marc da Cuhn Lopes via MyModernMet]
How do you encourage drivers to stay safe on the road? STARTLE THEM WITH SKELETONS! At least, thats New York City's plan, which is deploying a fleet of new speed limit signs with a speed-activated skeleton warning.
It's official; this blizzaster we're stuck with has ushered in an age of glowing, fire-ringed skeletons that will send us to our maker. Either that or someone is very, very good at light painting.
We saw some amazing examples of lightpainting in our Shooting Challenge back in July, but Flickr user Jannepaint has come along and eclipsed them all with his pro-shooting. It's all done in front of the camera, with no after-trickery involved.
With everyone hemming and hawing about airport scanners being a huge invasion of privacy, GE decided to put the fun back in showing your guts to the world. Their interactive Visible You installation lets you see your insides in action.
Some kids just can't learn from a book. The Skeleflex T-Rex takes a hands-on approach to teaching kids a simple lesson about archaeology, dinosaurs and playing God.
Daniel Pon needed to make a steampunk mouse to accompany his tricked-out keyboard and monitor, so he got to work, and perhaps a little carried away. The end result is impressive. And kind of nauseating.